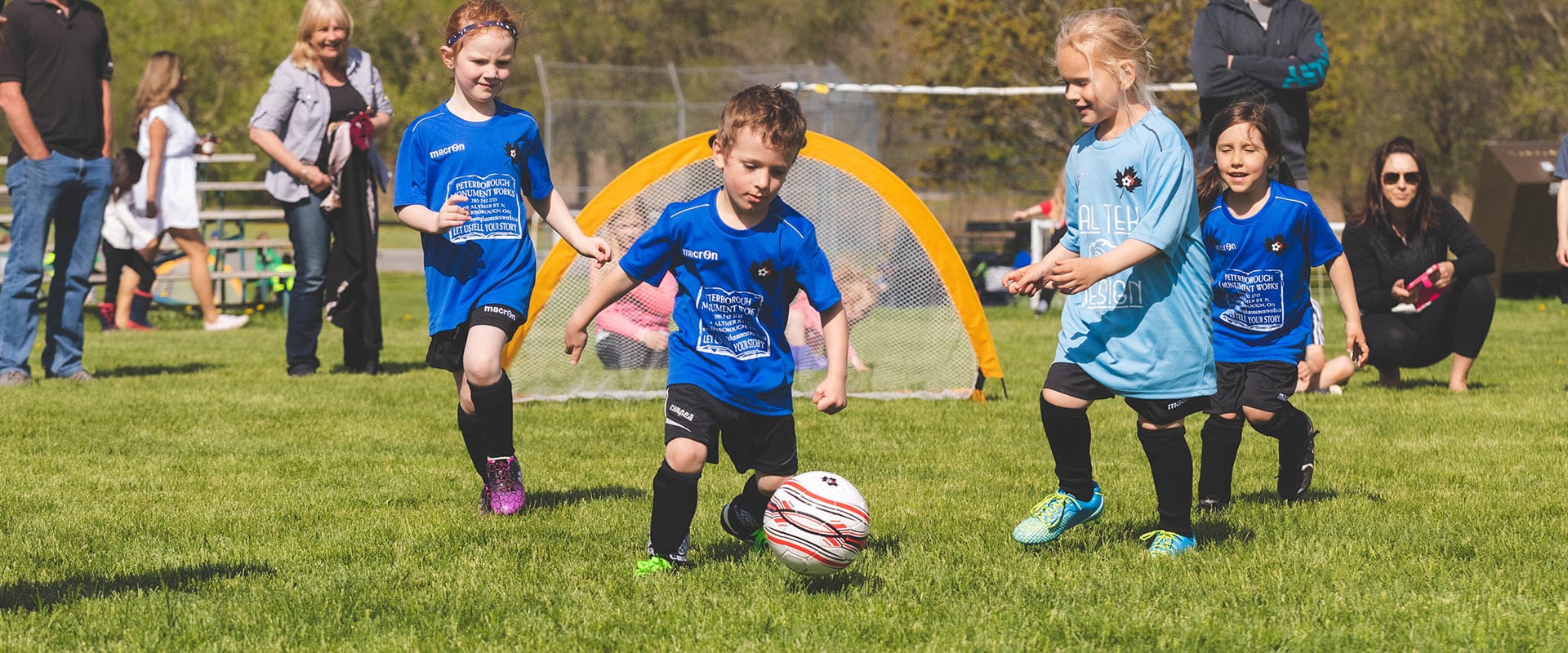 U4 Mixed Recreational Division
U4 Mixed Recreational Division is for players born in 2017 and 2018
COVID Pre-Screen Questionnaire
Players and fans are being asked to screen before entering any of the playing fields (even if you they been vaccinated). In Step 2 Maple Leaf Cavan FC is required to actively screen players and fans as per the advice of the Office of the Chief Medical Officer of Health.
IMPORTANT COVID News for 2021 House League Season
MLCFC is proud to announce we have received back to play approval from Ontario Soccer. We are thrilled to offer our 2021 Outdoor Soccer Recreational Program for children born in 2018 - 2009.
Our goal is to get our children back on the Pitch, having fun, playing the game that they love.
The health and safety of all players and their families remains of paramount concern and importance to our club, therefore our program has been re- designed to follow all of the "return to safe play" protocols and guidelines from the Peterborough Public Health Unit, Cavan Monaghan Township and Ontario Soccer.
To ensure the safety of everyone the following modifications to our league play will be made.
All age groups will have smaller 4 team divisions with smaller team roster sizes.
All divisions are limited to a 40 or less player bubble.
30-minute gap between division play to allow for less traffic and congestion at all field locations.
Match officials will be exclusive and will only be assigned to one division bubble.
There will be no cross play between divisions to ensure the player bubble remains consistent for the entire season.
Separate entry and exit points for the upper and lower fields have been arranged.
Half time snack time cannot be offered due to COVID.
Pre-Season Festival and end of season pizza party cannot be provided due to COVID

Masks are required to be worn by all spectators and coaches while at the fields. Players are required to wear masks when arriving and leaving from field but are not required to wear masks while playing *

Based on the current Peterborough Health Unit rules for outdoor sports, a max of 100 spectators per division will be allowed while practicing social distancing *

* - Peterborough Health Unit is continuously monitoring and updating its COVID protocols so please note that this information may change at any time



By registering with MLCFC you agree to comply with the specific measures and rules that will be in place for COVID-19.
Please read our COVID Refund Policy carefully before registering for our 2021 Outdoor House League Program!
U4 Mixed Program Details
9 week season
Players born in 2017 & 2018
Mixed boys & girls
8 players per team
4 teams per bubble
4 v 4
$125 registration fee ($160 after April 1)
Game Days & Locations:

Crestwood: Saturdays 9:30 a.m. | Sundays 9:30 a.m. or 4:30 p.m.
Maple Leaf Park: Saturdays 8:30 a.m. or 10:00 a.m. | Sundays 9:30 a.m. or 10:00 a.m.

We do not require cleats for the U4 age group, however, shin guards are required.
2021 Registration
Registration fee for 2021 season is $125 and includes:
Jersey
Shorts
Socks
Bag
MLCFC face mask
MLCFC soccer ball
Digital team photo
Trophy
** Division Full – registration closed **
U4 Rules
Ball size: 3
Format(1): 4 v 4
Goalkeeper: No
Throw-ins from sidelines(2): No
Move opposing team back at goal kicks (3): No
Incidental Handball called(4): No
Off-side called: No
Slide tackles: No
Game time:

Warm up: 15 minute of fun drills
Game times: 2 x 15 minute halves
Half-time break: 5 minutes

Field Size: 20 to 25m by 30 to 36m

OR

15 steps x 25 steps
Net: 4′ Pop-up
(1): Number of players on the field INCLUDES the keeper
(2): U4, U6, U8 players can pass/dribble the ball in. In U12+ if a player does not throw properly, they should be allowed to retake. If an improper throw is made on the 2nd attempt, ball is turned over to the opposing team
(3): Opposing team should be moved back mid-way between the goal line and center line, 1/2 way for U6 & U8, 1/3 way for U10, U12 (retreat rule)
(4): In U4, U6, and U8 incidental handball should not be called
U4 Mixed Sponsors
Please take a moment to visit the websites of our sponsors. Without their support the house league season would not be possible.