CFC Performance Institute
Enhance & improve your soccer skills by joining this additional training program
Introducing the CFC Performance Institute
MLCFC is committed to offering the best local soccer experience along with the highest quality of meaningful soccer training to all players & coaches in our club. Coach Andrew Kernohan has been brought in to lead this new training program and is super excited to begin working with all players and coaches.
Training with the CFC Performance Institute has been designed to enhance & improve the indoor technical training component of our REP program for all Cavan FC Development and REP teams (U7-U18) and will also be offered to players in the surrounding area. Drawing upon a world-renowned methodology and curriculum, the CFC training program will focus on superior skills-based training which will become the higher standard of training at Cavan FC!
We will deliver this to all players when our Cavan FC Development and Rep Teams begin their indoor technical training sessions in February 2023.
Location:
The Millbrook Arena – Turf Field (map)
Program Dates/Hours:
Ages: U7-Senior teams
Cost: $200
***Spaces in each session will be limited to maximize individualized player training attention***
About the Additional Training Program now offered
Players who register for the additional CFC Performance Institute program will be trained using the world's leading training program. This program is currently being used at all levels with many of the world's greatest clubs, namely: Manchester United, Chelsea Football Club, Newcastle United, Fulham Football Club, Arsenal Football Club, Bayern Munich, Real Madrid, AC Milan, French Football Federation to name a few. There is no other program that can compare or compete. This program offers the latest thinking in ball mastery, passing and receiving, 1 v 1 situations, speed and agility, finishing, and small games. It is important to recognize and understand which aspects of soccer need the most attention through the different age groups. This program will break it down so that we concentrate on specialized techniques at the appropriate levels. It also emphasises how much time needs to be spent on each aspect of the program during a training session to achieve maximum results.Our technical trainers have been specifically trained to adapt this new shift to our young athletes. We are confident this will transform soccer throughout our region. This program will be embedded into our DNA moving forward. We will also focus our efforts to train coaches through detailed "coach education clinics" to further enhance the development of our youth by implementing this program into every training session. This program has been proven at the highest levels of the sport. We plan to lead this initiative in Ontario starting with the CFC Performance Institute.
This program is designed for players who are looking to maintain and improve their skills and keep active in soccer proficiency over the fall and winter until Indoor Team and Club Technical Training begins in February 2023 (no training for 2 weeks over Christmas – December 26, 2022 – January 8, 2023).
MONDAY (Oct. 17 - Feb. 13, 2023)
U7/U8 BOYS  (2016/2015)
6:45-7:25 pm
U9/U10 BOYS (2014/2013)
6:45-7:25 pm
U11/U12 BOYS (2012/2011)
7:30-8:10 pm
U13/U14 BOYS (2010/2009)
8:15-9:00 pm
** No program scheduled for October 31 **
TUESDAY (Oct. 25 - Feb. 14, 2023)
KEEPERS
6:00 -6:55 pm
( All keepers will be grouped by age)
WEDNESDAY (Oct. 26 - Feb. 15, 2023)
U9/U10 GIRLS (2014/2013)
6:45-7:25
U11/U12 GIRLS (2012/2011)
7:30-8:10
Ladies  (2008 & older)
8:15-9:15
THURSDAY (Oct. 27 - Feb. 16, 2023)
U13/U14 GIRLS (2010/2009)
6:15-7:15 pm
U18 BOYS (2008-2005)
7:15-8:15 pm
Meet the Coaching Staff
(Click on photo to learn about our coaches)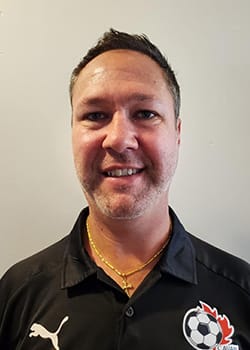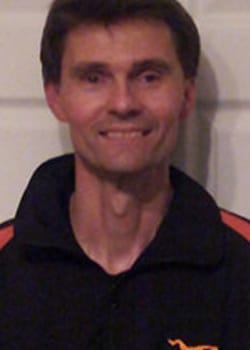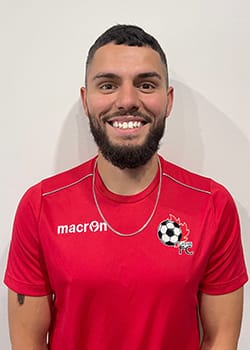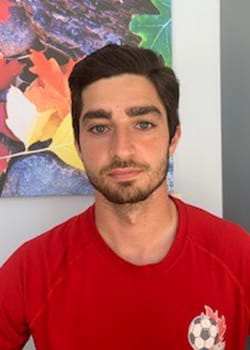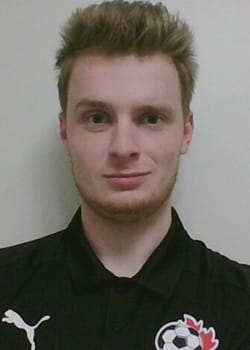 Meet the Trainers
(Click on photo to learn about our trainers)